Dentures in Fresno, CA
What Happens When My Dentures Need to Be Repaired?
Many patients who wear dentures have to come in from time to time to have their appliances repaired. It is usually a much more affordable alternative to having a new custom denture appliance manufactured. Here are a few details you should know about denture repairs.
Common Causes of Damaged Dentures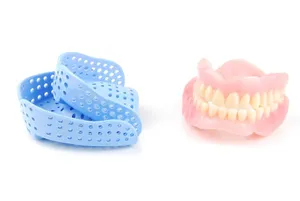 Dentures are made of plastic or ceramic material that can be damaged just like any other object made of this material. The damage is commonly caused by everyday use and accidents:
- Biting into something hard, like a walnut shell or bottle top, that causes the denture to crack or chip
- Hot foods can melt or warp the material
- Accidentally dropping or stepping on the denture appliance
- Pets getting a hold of the dentures and biting or chewing on them
- Certain dental creams and adhesives can damage dentures (don't use super glue)
The Process of Getting Dentures Repaired
Retailers sell at-home denture repair kits, but they aren't as reliable as having a dentist work on them. Having your dentures repaired by a dentist is similar to bringing your favorite pair of shoes into a cobbler's shop or a piece of clothing to a skilled tailor to be fixed. The dentist will use professional-grade adhesives and acrylic material to make the repairs.
The repair can take a few days if the dentist has to send them off-site to a laboratory, but some dentists who have their own lab's on-site offer same-day denture repairs. Emergency dentists often offer same-day repairs for dental restorations.
Protecting Your Dentures from Future Damage
There are a few ways that you can prevent damage to your replacement teeth in the future. If you're going to be involved in any type of activity that could put the dentures at risk, like football or hockey, you might want to remove them in advance. Do not use your dentures to open bottles or crack open shells, no matter how secure they feel. Also, avoid using potentially corrosive creams and denture cleaners. Even if it's just a tiny crack, avoid using super glue to fix dentures because it can do more harm than good in the long run.
If you have a problem with your dentures in the future, you don't have to tolerate discomfort -- there's probably a simple fix available.
Interested in Dentures? To learn more about Dentures call our office at (559) 298-3900 to schedule a dentures appointment today!